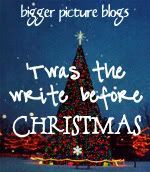 "It came without ribbons! It came without tags! It came without packages, boxes, or bags!' And he puzzled three hours 'til his puzzler was sore. THEN the Grinch thought of something he hadn't before! 'Maybe Christmas,' he thought, 'doesn't come from a store. Maybe Christmas…perhaps…means a little bit more!"
–
How the Grinch Stole Christmas
And today, it is time to be thankful. The Grinch, he had it right. Christmas does mean more than the presents. It's about love, peace, sharing, family. It's about finding time in the rush rush rush to slow down and appreciate the small gifts that you are given every day.
My sister,
Marci
, is also participating in 'Twas the Write Before Christmas. As she considered
yesterday's prompt
, the phrase "Peace on Earth" really stuck with her. What is peaceful? What brings peace? She says, "The connection I felt with God came to mind and how that connection with Him has grown especially in the past year or so. That is Peace to me, having that faith and knowing that I am loved always. It's as if I can breathe a sigh of relief. I have peace of mind because of His love for all of us and the strength that He gives me." Later that day, as she ran her errands, she came upon a church sign that said,
Peace Begins With A Smile
Isn't it funny how God delivers these gifts to us?
It came without ribbons! It came without tags! It came without packages, boxes, or bags!
While I'm not a particularly religious person, I do have a strong faith in God. Through nature, I'm reminded everyday of His Grace and Power. Everyday I am blessed with the vision to see the beauty of His world.
I am thankful for this gift.
The tree trunk "hearts" me.




"Breathe in the Sky"
Emerging Waterlily
The Blue Ridge Parkway
It's Going to be Another Great Day
I have become enamored with the church that is next door. The lines and angles of this simple building are very geometric. The steeple against the sky, seen so many different ways, really strikes me... and I have taken many, many photos of it. It calls.
And of course, the gift for which I am most thankful... my girls.
And I am thankful also to Lenae, Hyacynth, Young Mom, This Heavenly Life, and Kimberly. Thank you for your kind words yesterday. Thank you for that gift.
Peace Begins With a Smile.