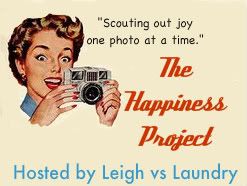 Happiness is tangled up in these two pairs of legs.
And I am oh, so thankful.
Wanna see this photo SOOC (Straight Out Of the Camera)?
Well, okay, it was a jumble of pattern and color. Not a planned photo at all, they were in their jammies covered in a big warm comforter(well, one of them was, at least).
All this pattern took away from the focus. My girls. So I uploaded to photobucket, transformed it to black and white, and then brought back their skin through color effects. So much better!
Do you like snapping photos as much as I do? You can also participate in these challenges! If you want to participate in these three, just click on their button above.
Ashley at Ramblings and Photos
also has a most awesome list of challenges. Seriously, you could do a different one everyday. And it looks like I'm attempting that! (As if I didn't have anything else to do...)